Product Description
Product Description
Stemtech's SE2® is the world's first all-natural supplement documented to support the release of adult stem cells from bone marrow. Our advanced supplement puts more stem cells in the bloodstream, and the effect lasts longer.
An advancement in Cellular Renewal – helping Nature do what it is designed to do

Stemtech was first to discover the way to support the body's natural renewal system by supporting the release of more adult stem cells into the bloodstream. Our Advanced Formula now brings a new discovery to the forefront with a longer-lasting formulation that that helps the body maintain and repair tissue and organs.

SE2 is not a traditional multivitamin supplement that works to supply nourishment to old cells. Instead, SE2 supports the natural release of "master" cells that can transform themselves into healthy new cells.

A patent-pending, proprietary blend of extraordinary, all-natural ingredients starting with AFA Concentrate

Our new Advanced Formula contains StemRelease™ Complex, a patent-pending blend of proprietary nutrient-dense concentrates of Aphanizomenon flos-aquae (AFA Concentrate)… PLUS three ingredients now discovered to work in partnership with AFA Concentrate to support a more significant increase in the release of adult stem cells:

Aphanizomenon flos-aquae (AFA Concentrate) is documented to support the natural release of adult stem cells from bone marrow.

Undaria pinnatifida is a marine alga from pristine ocean environments around the world, and is well known to support the immune system. Fucoidan from Undaria Pinnatifida has been documented to support a long-lasting increase in the number of circulating stem cells.

P. multiflorum is an herb with a long history of use to support health and rejuvenation. An extract of P. multiflorum was recently documented to support the release of stem cells from the bone marrow.

Cordyceps sinensis is a synergistic ingredient that has been associated with stamina and longevity, and a wide variety of health benefits. When used with AFA Concentrate, fucoidan from Undaria pinnatifida and Polygonum multiflorum extract, it has been documented to synergistically support stem cell release.

U.S. patents 6,814,961/7,651,690/8,034,328 and patent-pending

Tests show SE2 supports the release of millions MORE adult stem cells…for a longer period of time.

In a double-blind crossover study, our SE2 StemRelease™ Complex showed superior results.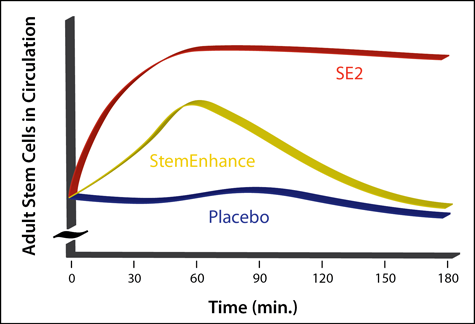 Your body's renewal system depends on the number of adult stem cells into your bloodstream.

Your own adult stem cells have the power to maintain and repair tissue cells as needed – a vital, life-sustaining process that helps to maintain your health and well-being. However, factors such as daily exposure to environmental toxins, physical and mental stress, poor diet and the aging process may cause a decline in your body's ability to renew itself, putting your wellness at risk. SE2 supports the natural release of your adult stem cells from the bone marrow, like this:

The Incredible Power of Adult Stem Cells At Work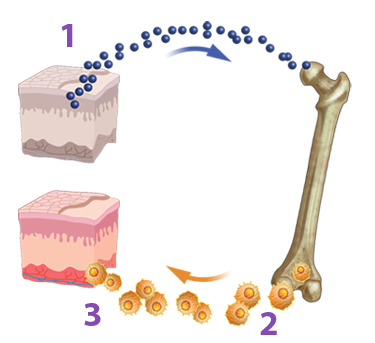 "Messengers" are sent by tissues in need, requesting the release of adult stem cells from the bone marrow.
Adult stem cells circulate in the bloodstream.
A different set of "messengers" attract adult stem cells to migrate into tissues where the stem cells reproduce and become new healthy cells of that tissue.




†These statements have not been evaluated by the Food and Drug Administration.
These products are not intended to diagnose, treat, cure, or prevent any disease.
Product Videos
Stem Enhance Inventor Dr. Christian Drapeau.
09:06

Product Videos
Product Reviews
Write Review
A proven benefit of SE3

Posted by Unknown on 21st Jul 2016

The best source of nutrients my mother had taken to improve/reverse her osteoporosis. Prior to her taking these pills, she fell three times, and every time she suffered broken bones. The last time she fell, she suffered some bruising only. By the face of God. She's been taking SE2/SE3 for two years now. I attribute this improvement in her bones to these pills.

Effective Stem Cell Releaser

Posted by Unknown on 2nd Aug 2015

It is awesome and very effective.
Find Similar Products by Category